PARTY & EVENT
RENTAL CATALOG
LET CHARNECKE TENTS CREATE THE BEST POSSIBLE EXPERIENCE FOR YOUR EVENT.
Quick Installations
Clean Pristine Tents- Safe Tents
Cater To All Sizes Of Events
Our Crews Are Easy To Work With
Keep Your Site The Way We Found It
Treat Customers As Friends
Large Selection Of Party Rental Items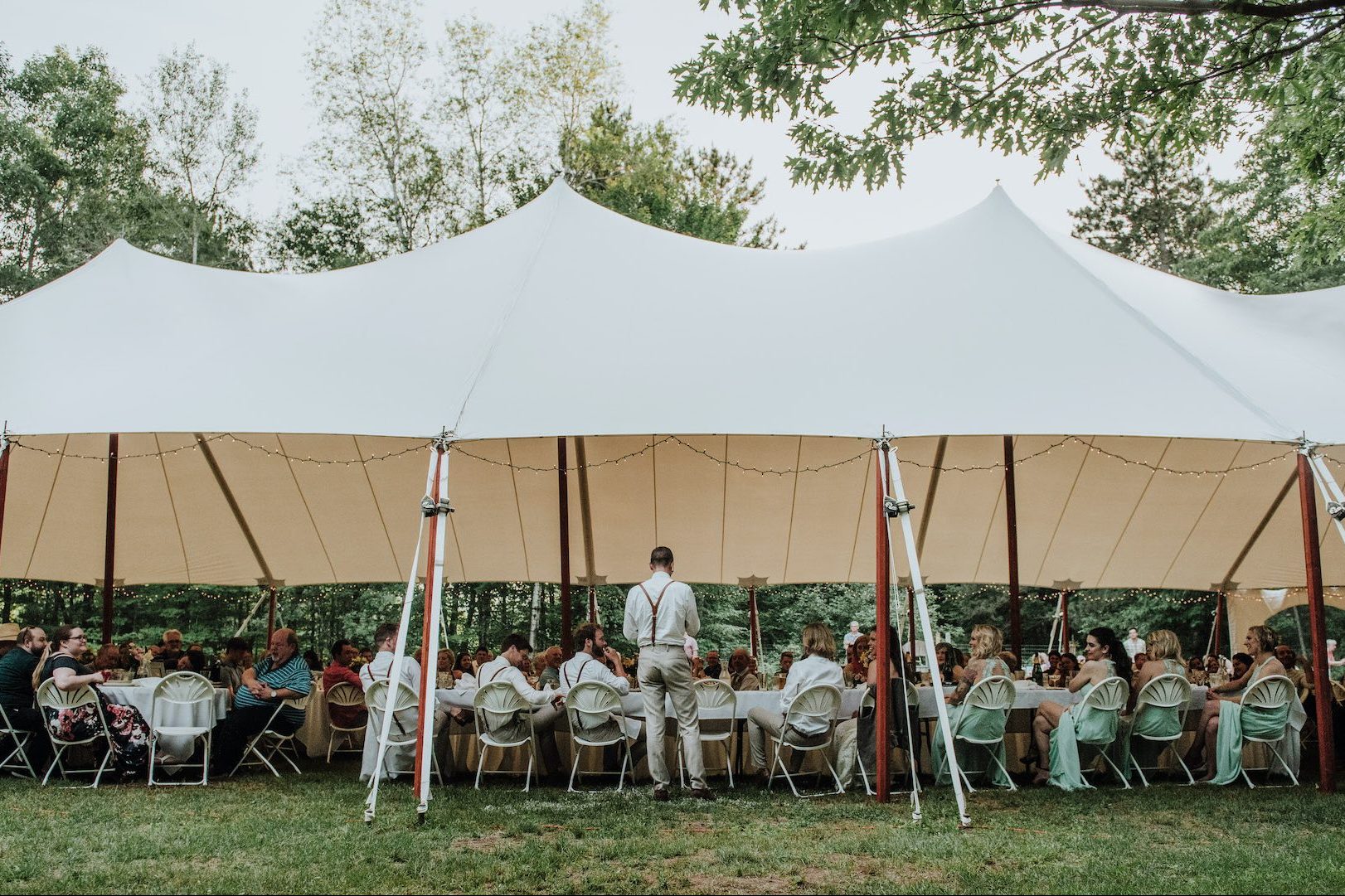 best combination of price and service of any vendor in their industry - Tony N.

fortunate to partner with Charnecke tent rentals for over 25 years - Jim Doornek

The staff at Charnecke Tents were so extremely helpful and everything came together perfectly from start to finish! - Marsha V.

Charnecke Tents has been our tent and equipment supplier for over 16 years - Al Basset

Tent Rentals
Charnecke Tents, Inc. has a large selection of tents and party supplies available for rent. We cater to all sizes of events that include picnics, weddings, fairs, corporate events, and parties and we service the entire state of Wisconsin. We have been in business since 1929 and our quality of products and service is second to none.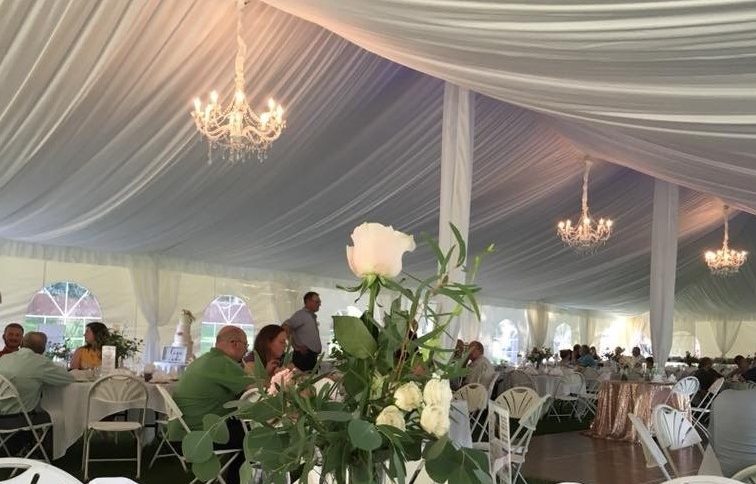 Tent Liners, Swag & Drape Rentals
Tent liners or swags give an elegant look to any special occasion. Tent liners are available for rental with any 40′ wide tent. Pole covers can be used with or without a tent liner. Please call for information.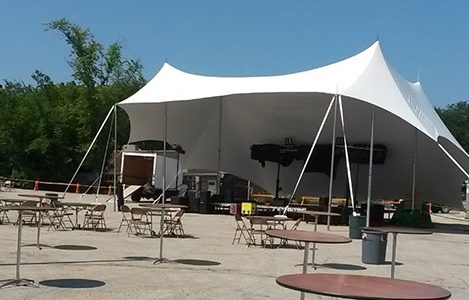 Band Shell Rentals
The Band Shell is a perfect venue for bands and performers. It keeps the performers and equipment covered from the elements while projecting the sound into the crowd. The Band Shell will accommodate a 24'D x 36'W stage and overall is 44'D x 53"W with the tallest point being 24' High. Please call for more information.
Chair & Cover Rentals
Charnecke Tents rents Fruitwood Folding Chairs with Tan Padded Seats, White Fan Back Chairs and standard brown chairs and fabric chair covers to match the décor of your event.
Lighting Rentals
Charnecke Tents offers 3 kinds of lighting options to our rental customers: attractive chandelier lights, café lighting, and LED uplights.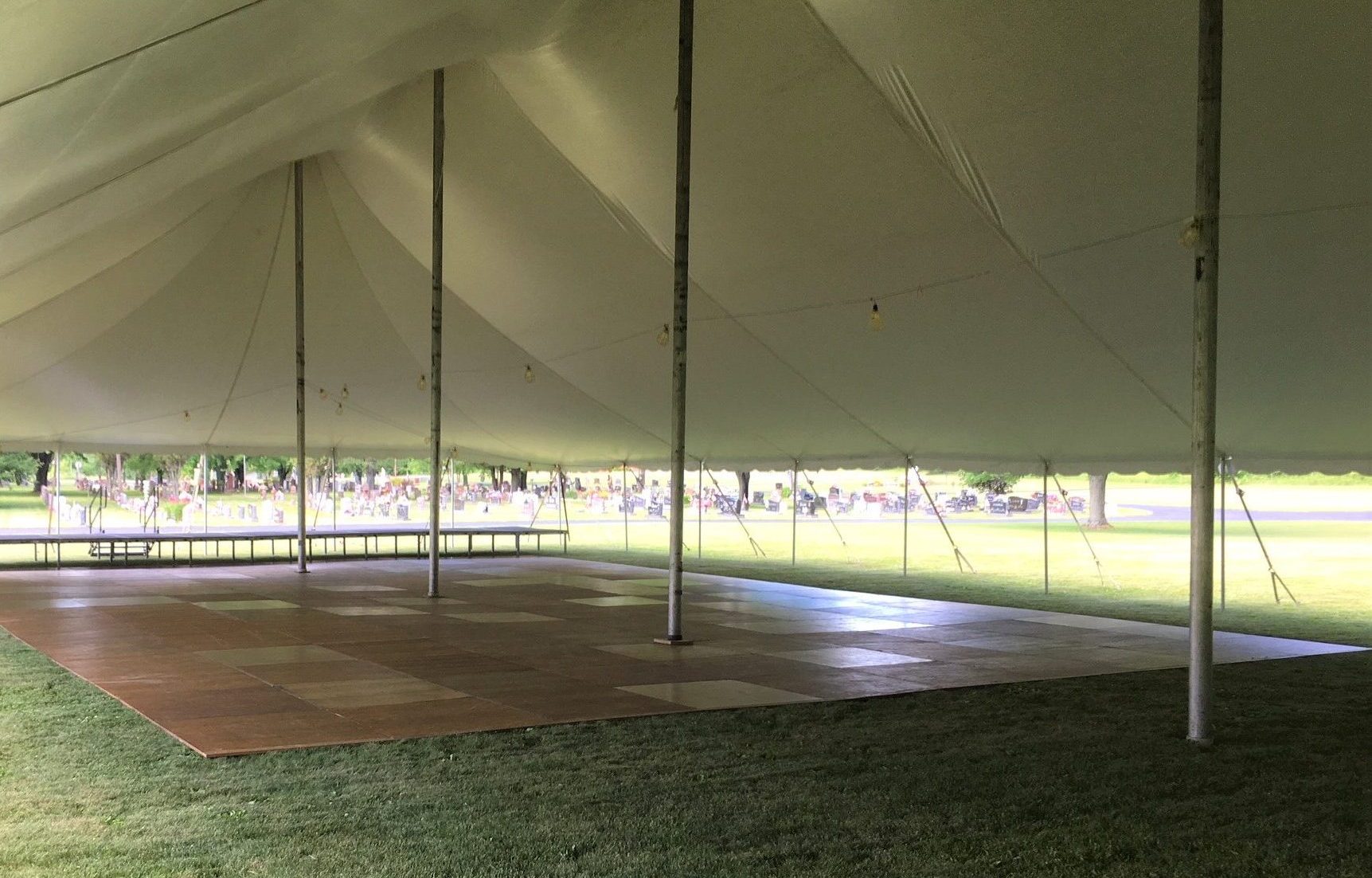 Dance Floor Rentals
Step it up with a dance floor rental from Charnecke Tents. Ideal for weddings, and lively parties. Sturdy wood finished dance floor comes in 4 ft. x 4 ft. sections with a standard rental of 20 ft. x 24 ft. Estimate the sizing of your dance floor figuring approximately 4 sq. ft. per person.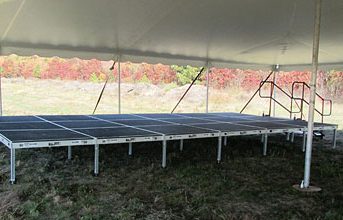 Stage Rentals
Add some height to your band area, speaker's dais, or table of honor with stage sections from Charnecke Tents. We rent aluminum 4′ x 4′ stage sections that are sturdy and lightweight. They come in heights of 24″ or 32″ with matching stair sections with hand rails for easy access.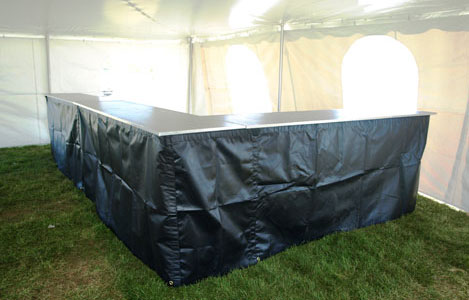 Bar Rentals
Add a convenient beverage service area to your special event with a rental bar from Charnecke Tents. We rent bar sections in 8 ft. lengths that can be adjoined in combination to serve your needs. Each section measures 8 ft. in length and is 24 inches deep; it features a brushed pewter top, plus front & side enclosures.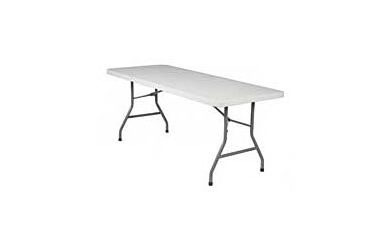 Table Rentals
Charnecke Tents rents a variety of tables for your special event. We have tables for seated dining, and cocktail tables work well around our bar sections.
8 ft. table

6 ft. table

60 inch round table

36 inch cocktail table (42 inch height)
best combination of price and service of any vendor in their industry

"I met Ken Charnecke back in 1990 when I started volunteering with Greendale's Village Days Festival. They just seemed to have the best combination of price and service of any vendor in their industry. So, we took a chance on them. Boy, has it been a great relationship! Over the years, as our humble little festival has grown, Charnecke has been there for us and would could not be happier. In 2015, they designed a us Band Shell on our request and that changed the face of our festival. We get a lot of compliments on it. 2020 will mark 30 years of my involvement with Village Days and also 30 year working with Charnecke! Thanks Jenny for taking over for Ken and doing such a great job for us!"
Tony Novinska
VP Greendale Entertainment Association
Village Days Co-Chair.
Greendale, WI
fortunate to partner with Charnecke tent rentals for over 25 years

"Our Lions club has been fortunate to partner with Charnecke tent rentals for over 25 years. As an organizer of our Thiensville-Mequon Lions annual June festival, I can attest that the quality and service is excellent, and that Jenny, Ken, Jay and all the folks at Charnecke are a pleasure to work with. Our fest site is prone to flooding, and there have been many times where they have gone above and beyond with last-minute changes to accommodate our needs. Just recently, I worked directly with Jenny on the custom design of some side curtains to enclose our park pavilion."
Jim Doornek
Thiensville-Mequon Lions Club
Thiensville-Mequon, WI
EXTREMELY HELPFUL AND EVERYTHING CAME TOGETHER PERFECTLY FROM START TO FINISH

"As a wedding planner, I had the privilege of working with Charnecke Tents. My clients rented a tent, tent liner with colored lighting (which I highly recommend), chandeliers, tables, chairs, bar and dance floor. It was one of the largest outdoor wedding events that I have ever planned. The staff at Charnecke Tents were so extremely helpful and everything came together perfectly from start to finish! They provided quick estimates for all the rental equipment and quickly answered any questions that I needed throughout the months of planning. At the time of the event, the service staff was super knowledgeable and professional. I would highly recommend Charnecke Tents for your next event. You will not be disappointed!"
Marsha VanArk, Lead Wedding Planner & Owner
Distinctly Yours Wedding & Events, LLC
Stevens Point, WI
Charnecke Tents has been our tent and equipment supplier for over 16 years

"Charnecke Tents has been our tent and equipment supplier for over 16 years and has always done an excellent job. On time setup, clean tents and great accessories like stages and bar. They have provide great service and are very dependable."
Allan Bassett
South Milwaukee Lions Festival Chairman
South Milwaukee, WI